Changing the way you work with radiant heating
The Sled is an easy-to-use, labor saving tool that eliminates alignment issues and the need for return panels. It is a router guide system that enables the operator to cut return bends directly into grooved radiant flooring panels.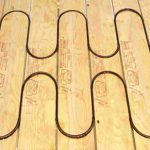 Return panels are no longer necessary
Eliminate headaches from puzzle piece layouts
Any crew member is now capable of laying out your most complex room with ease
Flexibility to create any configuration
Pays for itself on the very first job.