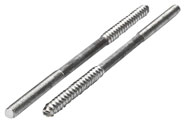 Lag Ends and Lag End Drivers
Try Our New Lag End Driver*
You can drive lag ends with your hand drill in seconds. Eliminate the use of a ceiling flange and cut-to-length threaded rod.
Drive lag ends without harming the thread. Available for 3/8″ and 1/2″ lag ends. Save money on installation costs.
See the video. Download the brochure (PDF file, 268KB).
*Patent Pending
| Part # | Description | Finish | Size | Packaged |
| --- | --- | --- | --- | --- |
| 2001-A-P | Lag Ends | Plain | 3/8 x 3 1/2 | 25 |
| 2001-B-P | Lag Ends | Plain | 3/8 x 4 | 25 |
| 2001-C-P | Lag Ends | Plain | 3/8 x 4 1/2 | 25 |
| 2001-D-P | Lag Ends | Plain | 3/8 x 6 | 25 |
| 2001-E-P | Lag Ends | Plain | 3/8 x 8 | 25 |
| 2001-F-P | Lag Ends | Plain | 3/8 x 12 | 25 |
| 2011-A-P | Lag Ends | Plain | 1/2 x 3 1/2 | 25 |
| 2011-B-P | Lag Ends | Plain | ½ x 4 | 25 |
| 2011-C-P | Lag Ends | Plain | 1/2 x 4 1/2 | 25 |
| 2011-D-P | Lag Ends | Plain | ½ x 6 | 25 |
| 2011-E-P | Lag Ends | Plain | ½ x 8 | 25 |
| 2011-F-P | Lag Ends | Plain | 1/2 x 12 | 25 |
| 2001-A-G | Lag Ends | Plated | 3/8 x 3 1/2 | 25 |
| 2001-B-G | Lag Ends | Plated | 3/8 x 4 | 25 |
| 2001-C-G | Lag Ends | Plated | 3/8 x 4 1/2 | 25 |
| 2001-D-G | Lag Ends | Plated | 3/8 x 6 | 25 |
| 2001-E-G | Lag Ends | Plated | 3/8 x 8 | 25 |
| 2001-F-G | Lag Ends | Plated | 3/8 x 12 | 25 |
| 2011-A-G | Lag Ends | Plated | 1/2 x 3 1/2 | 25 |
| 2011-B-G | Lag Ends | Plated | ½ x 4 | 25 |
| 2011-C-G | Lag Ends | Plated | 1/2 x 4 1/2 | 25 |
| 2011-D-G | Lag Ends | Plated | ½ x 6 | 25 |
| 2011-E-G | Lag Ends | Plated | ½ x 8 | 25 |
| 2011-F-G | Lag Ends | Plated | 1/2 x 12 | 25 |
| 2001-H | Lag End Driver | Plain | 3/8" | 1 |
| 2001-I | Lag End Driver | Plain | 1/2″ | 1 |