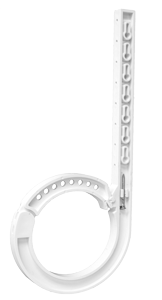 The Glide Lock J Hook
Size Range: 1 1/2″ – 4"
Function: Holds piping securely in both vertical and  horizontal applications
With the New Glide Lock J Hook the Warwick Hanger Company once again shows they're on the cutting edge of innovation when it comes to the plumbing and pipe hanging industries. The Glide Lock J Hook was designed to make hanging PVC pipe easier and faster. It allows pipe to glide back and forth while it's resting in the hanger to easily achieve your fit and gluing applications .Once your set up needs are accomplished our ratchet arm simply locks the pipe into place for a durable and sturdy installation. Versatility is a crowning achievement of the Glide Lock J Hook because our locking ratchet arm not only gives it the ability to lock pipe into place but also completely surrounds the pipe so it can be mounted in any position, horizontal, vertical or even upside down for unlimited flexibility. Available in sizes from 1&1/2" to 4" the Glide Lock J Hook is an indispensable resource for saving both time and money when hanging PVC pipe. See the video. Download the PDF brochure.
Patent #:  USD564, 866S
| Part # | Size | Type | Packaged |
| --- | --- | --- | --- |
| 1425-1 | 1 1/2" x 7" | DWV | 25 |
| 1425-2 | 2" x 7" | DWV | 25 |
| 1425-3 | 3" x 7" | DWV | 25 |
| 1425-4 | 4" x 7" | DWV | 25 |
Series 1400 Plastic J Hook for DWV and CTS
Size Range: 1/2″ – 4"
Function: Holds piping securely in both vertical and  horizontal applications
The J-Hook is an exceptional hanger that saves time and money.  Hugs pipes snug and secure at easily determined grades.  Snap in lock feature holds pipe securely, glueable with same adhesive used for pipe fittings.
1/2″ – 4" hook fits both Sch 30 and Sch 40 pipe
| Part # | Size | Type | Packaged |
| --- | --- | --- | --- |
| 1400-1 | 1 1/2" x 8" | DWV | 25 |
| 1400-2 | 2" x 8" | DWV | 25 |
| 1400-3 | 3" x 9" | DWV | 25 |
| 1400-4 | 4" x 9" | DWV | 25 |
| 1400-5 | 1/2" x 4" | CTS | 25 |
| 1400-6 | 3/4" x 4" | CTS | 25 |
| 1400-7 | 1" x 4" | CTS | 25 |
| 1400-8 | 1 1/4" x 4" | CTS | 25 |
| 1400-9 | 1/2" x 7" | CTS | 25 |
| 1400-10 | 3/4" x 7" | CTS | 25 |
| 1400-11 | 1" x 7" | CTS | 25 |
| 1400-12 | 1/2" x 1/2" x 4" | CTS | 25 |
| 1400-13 | 3/4" x 3/4" x 4" | CTS | 25 |